Debian / Ubuntu punya apt
RedHat / Centos punya yum
macos punya brew
Sekarang windows pun tidak mau kalah punya WinGet,
untuk menginstall WinGet kita tinggal kunjungi link berikut
Kemudian download dan install Microsoft Desktop AppInstaller
Install seperti biasa anda menginstall aplikasi berbasis windows.
Setelah selesai buka command prompt dan ketikan winget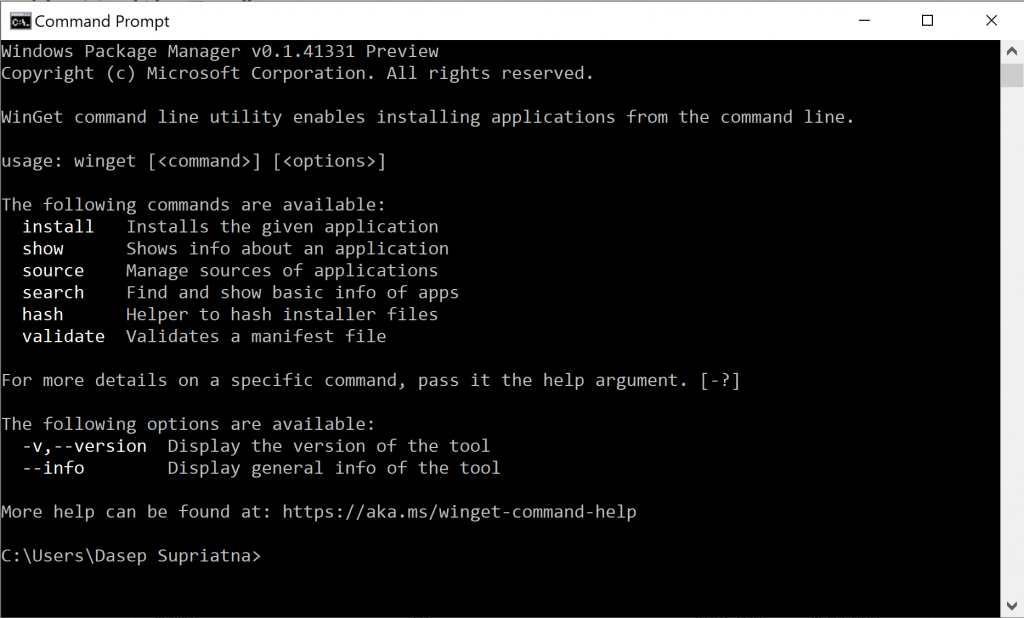 Setelah WinGet terinstall, berikut ini perintah-perintah yg bisa dilakukan
Mencari aplikasi yg diinginkan:
PS C:\> winget search mysql
Name                      Id                           Version     Matched
---------------------------------------------------------------------------------
MySQL                     Oracle.MySQL                 8.0.20      Moniker: mysql
MariaDB Server            MariaDB.Server               10.4.13     Tag: mysql
DBeaver Community Edition dbeaver.dbeaver              7.1.0       Tag: MySQL
HeidiSQL                  AnsgarBecker.HeidiSQL        11.0.0.5919 Tag: MySQL
HeidiSQL Nightly          AnsgarBecker.HeidiSQLNightly 11.0.0.6000 Tag: MySQL
Xampp                     ApacheFriends.Xampp          7.4.6       Tag: MySQL
Contoh diatas kita hanya tahu key yg diinginkan, apabila belum yakin yg mana yg perlu diinstall kita bisa cek info nya dengan menggunakan perintah show.
PS C:\> WinGet show  Oracle.MySQL
Found MySQL [Oracle.MySQL]
Version: 8.0.20
Publisher: Oracle
AppMoniker: mysql
Description: The MySQL software delivers a very fast, multithreaded, multi-user, and robust SQL (Structured Query Language) database server. MySQL Server is intended for mission-critical, heavy-load production systems as well as for embedding into mass-deployed software.
Homepage: https://www.mysql.com/
License: GPL
License Url: https://downloads.mysql.com/docs/licenses/mysqld-8.0-gpl-en.pdf
Installer:
  SHA256: 2c50f0cbfe17eeb0c769821e392e67319f4fc6523e4ed0c97215b9a5bd65966b
  Download Url: https://dev.mysql.com/get/Downloads/MySQLInstaller/mysql-installer-community-8.0.20.0.msi
  Type: Msi
Kalau sudah ok silahkan lanjutkan dengan install
PS C:\WINDOWS\system32> winGet install powertoy
Found PowerToys [Microsoft.PowerToys]
This application is licensed to you by its owner.
Microsoft is not responsible for, nor does it grant any licenses to, third-party packages.
Downloading https://github.com/microsoft/PowerToys/releases/download/v0.18.2/PowerToysSetup-0.18.2-x64.msi
  ██████████████████████████████  22.0 MB / 22.0 MB
Successfully verified installer hash
Installing ...
Successfully installed!
Ketika proses installasi akan muncul beberapa pop up, enaknya menggunakan WinGet anda tidak perlu melakukan download dan banyak klik. dengan satu command langsung di downloadkan dan diinstallkan.
Saat ini WinGet masih dalam tahap pengembangan, masih banyak fitur yg belum ada seperti fitur uninstall, jangan lupa WinGet ini opensource jadi sangat mungkin untuk berkembang lebih jauh semoga kedepannya semakin lengkap dan semakin banyak aplikasi yg di support.
---
About this entry
You're currently reading an entry written by Admin
Published:

29.06.20 / 12pm
Post Navigation: